Cast of Characters
Click a header for character biographies
Characters from "A Voyage of the Space Cruiser Argo"
Most of the series takes place aboard the rebuilt space battleship Argo. Her crew, the Star Force, come from a wide variety of backgrounds and walks of life. This haggard, rag-tag band of resistance fighters have to come together and work as a team to avert the coming annihilation of humanity, and the destruction of Earth itself. But common cause is not always the strongest bond. People, as always, are flawed...
Spanning the entire Andromeda Galaxy and half of the Milky Way as well, the Comet Empire is a highly advanced civilization, bent on the conquest of the entire universe. Their motives are never explained to conquered peoples, but it seems clear that lust for power and thirst for resources have consumed whatever justification they originally had.
The Comet Empire has many enemies. Some have agreed to help free the Earth from Imperial rule. Some are legends of the intergalactic ether. Still others, are more mysterious yet...
Desslok has a long, eventful history with the people of Earth. He has been would-be conqueror, determined enemy, wary ally, and trusted friend.
Comping to power on the dying world, of Gamilon, Desslok led his people in a war with Earth that nearly obliterated BOTH worlds. As it was, Gamilon was eventually destroyed, and Desslok's forces allied themselves with the Comet Empire invasion, led by Prince Zordar. Desslok and Zordar became friends, but Desslok was betrayed and secretly imprisoned by Zordar's daughter, Invidia.
This led Desslok to withdraw the Gamilon fleet from the alliance. A fact that many in the Empire, including Emperor Jahmorta, view as betrayal.
Desslok lead the shattered remains of his people into the core of the Milky Way Galaxy, in search of a new home.
There, they discovered the world of Gallman, and soon discovered it to be their ancestral homeworld. After freeing the world from another galactic power, the Bolar Federation, Desslok was elevated to the throne of Gallman, and thus was born the Gallman Empire.
The Gallmans are very like their wandering cousins, the Gamilons. Militant, quick to anger and filled with lust for glory. Desslok tries to restrain their war-like tendencies, but he fiercely defends his new found homeland. Any threat to his people, is dealt with swiftly and decisively.
Charismatic beyond words, Desslok is one of those figures who wears destiny like a cloak. Men follow him for no better reason that he is fate incarnate. Where Desslok goes, history follows.
Desslok is voiced by Devin Cox in Season 1, and R. Douglass Barbieri in Season 2.
Pirate, rebel, legend, man.... Harlock is many things. Most people regard him as a myth, a fiction dreamed up to give hope to a conquered people... But Harlock is very real indeed.
Once captain in the Earth Defense Forces- Harlock's ship, the Deathshadow, was one of the few survivors of the battle at Jupiter. He made his way back to earth, and attempted to evacuate civilians from the planet, when he was intercepted in Martian orbit and forced to return to Earth.
From there, the stories differ. Most agree that he and a small crew of rebels stole a top secret prototype battleship, the Arcadia, and escaped the planet once and for all.
Adrift, amongst the Sea of Stars, Harlock raided Imperial shipping, and helped resist the Empire wherever he could. Eventually, he and his crew joined a mercenary fleet hired by Emperor Desslok of Gallman to defend his home system from Imperial attack.
Harlock is voiced by Ducky Pattersonin season one, and Dylan Spencer in season two.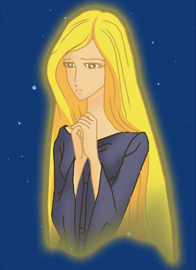 Many debate the existence of Trelena, the Sage of Telezart.
She was a real person at one time, indeed she was a major influence on Earth's successful defeat of Prince Zordar fifteen years ago. She provided badly needed intelligence and technical data on Zordar's Comet Fortress and the battle strength of his invasion.
From there, however, the waters get very muddy. Some say that she was from a highly advanced species, who could convert matter, even their own bodies, into pure energy. Others claim she was a highly evolved human who stumbled on a great secret. It is also said that she is literally, a goddess... a bearer of cosmic truths.
Whatever the truth is, Trelena sacrificed her life, and her homeworld of Telezart, to stop Zordar's advance. The Earth owes Trelena a debt it can never possibly repay.
Trelena is voiced by Peg DiGrazia